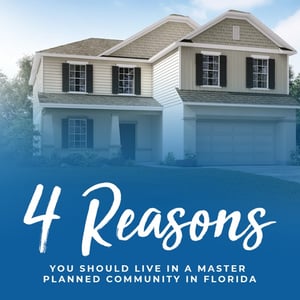 No homebuyer ever said, "I can't wait to buy a home, stay inside forever and never come out."
Well, maybe some buyer has.
Point is, home buying is about more than just the home itself—it's about the community, the features, the lifestyle, the area and even the neighbors! All the details that surround a home are often considered just as important as the home itself.
Master planned communities, or MPCs, focus on just that.
So why choose to live in a Florida master planned community? What are the advantages and downsides? Before we dive into details, let's lay out some definitions.
According to Business Dictionary, a master planned community is "a type of residential plan that includes an unusual number of recreational amenities such as parks, golf courses, lakes, bike paths, and jogging trails..."
In other words, living in a master planned community provides an experience where the residents can enjoy more advanced amenities, more space and, typically, a higher quality of life.
While different sections of an MPC might have their own style, flavor and home options, the communities hold themselves together with a wide variety of common amenities, high quality of life and community-wide events.
With all this in mind, let's dive into the top four reasons to live in a master planned community in Florida.
Community Culture & Lifestyle
Many MPCs take constant strides to create a cohesive, fun and engaged community culture (or community lifestyle). Metro Places, for instance, holds events throughout the year to promote family-friendly activities, holiday celebrations and ordinary community gatherings. These events help bring each "neighborhood" together to create a stronger sense of unity, community and pride of ownership.
One of Metro's events last year, Battle of the Blocks, took place at Union Park, one of Metro's more advanced and high-tech communities in Wesley Chapel. During the event, each community "block" of Union Park took place in a series of games, races and other family-friendly competitions on a beautiful Florida afternoon.
Amenities
Subdivisions may offer a park or small patch of grass, but master planned communities are often designed with acres of space for family fun. With all this space for amenities (fitness center, walking trails, parks for kids, sports courts, etc.), MPCs offer a more tight-knit, "community" feel to where they live.
In terms of amenities (or Elements, as Metro Places has coined them), MPCs provide residents with more options and more variety. At Epperson, one of the master planned communities by Metro Places, residents will be able to enjoy a seven-acre Crystal Lagoon, butterfly garden, Wi-Fi parks and autonomous vehicle paths.
Variety
Subdivisions may offer more than one home builder, but rarely more than one price range. When prospective buyers are home searching, a master planned community can provide them with a wider variety of price ranges, builders and in-home features.
Of course, with more variety, more people visit and schedule tours, which leads to a more diversified buyer list—first-time buyers, move-up buyers and long-time buyers all living in the same master planned community. Not a bad way to make new friends and meet new people!
Investment for the Future
Living in a master planned community has more than its fair share of benefits. For first-time buyers and move-up buyers alike, a home within a Master Planned Community is an opportunity unlike any other.
MPCs are much more than just a collection of neighborhoods with better amenities and community activities—in many ways, they're a glimpse into the future of self-sustained community living. Master planned communities offer an idea of what the future of neighborhood life may look like, with environmentally-sound practices and residents have "all the elements for a great life" with enough home options and amenities to have that small town feeling.
At Metro Places, there are plenty of reasons to buy—new homes with modern design features, events planned all throughout the year, and some of the best amenities any Master Planned Community in Florida has to offer.
Reading about it is one thing, but seeing it in person is another. Whether you're looking to live in Wesley Chapel, Riverview, Bradenton or a surrounding area, Metro Places has a master planned community for everyone.
Topics: home purchasing, first time home, real estate, Epperson, new homes