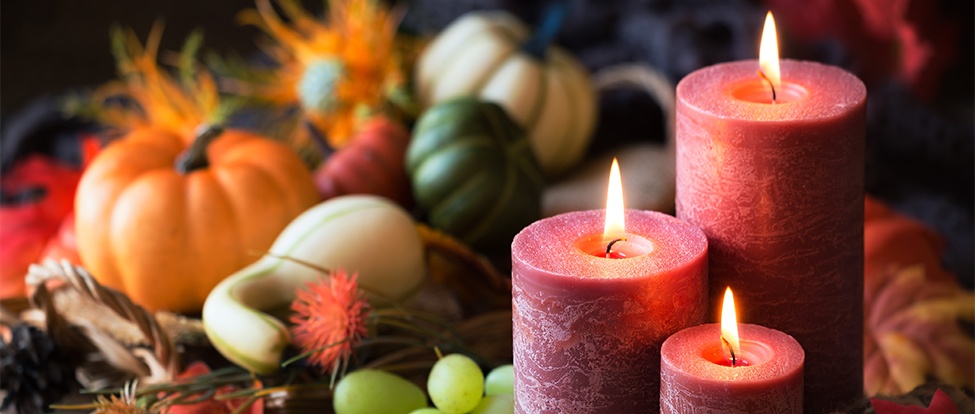 Hosting for the holidays?
Without a doubt, hosting a holiday party can be pretty stressful, especially if you're a first-time host. Getting the house ready for guests, buying and preparing the food and making sure everyone is having a great time is a lot to take on your plate.
When it's all said and done, however, the holidays are for spending time with loved ones and sharing the joys in life with one another. Don't stress!
Our four tips below are sure to help you host a holiday gathering your family and friends will never forget.
Creating the Atmosphere: Smells of the Season



None of our senses are tied to memory quite as strongly as our sense of smell.





Specific smells can evoke memories of events that occurred where that scent was present.





Use this to your advantage when preparing for your holiday parties!





For both Thanksgiving and Christmas, scents of pumpkin, spices, cedar, fir, and open fires are all aromas that evoke holiday memories and can help make new ones.





Grab some of those scented pine cones from the craft store and put them in decorative bowls around the house and entry way. Light holiday scented candles or burn scents in a scent burner.





You can also cook some spiced cider on the stove or in a crockpot. The scents of sauteed apples, cinnamon sticks and citrus create a delicious and distinct seasonal aroma.





When your guests enter your home, they will be welcomed by these wonderful scents, which will both evoke pleasant memories of holidays past and help to affix your holiday event in their memory as well.




Creating the Atmosphere: Sights of the Season



Though not quite as powerful as the sense of smell, what our eyes take in also helps create and evoke vivid memories that can usher us into the holiday spirit.





Creating a consistent visual theme all throughout your home can help create a fully-immersed holiday experience.





This doesn't have to be too complicated! You could create a visual theme for the holiday simply by choosing appropriate colors and ensuring that they are present in all of the rooms guests will be spending time in.





For Thanksgiving, you can make sure that pumpkin orange, golden yellow, brown, and cranberry reds appear in every room. Have a fall colored wreath on your door, arrange artificial fall leaves on a few surfaces in the entryway and living room, use fall-colored runners and towels in the dining room and kitchen, etc.




Creating the Atmosphere: Tastes of the Season



Whether you are preparing all of the food and drink yourself, or everyone is pitching in, keeping the menu simple is the best way to go. Don't worry about dishes meant to impress! Instead, stick with the traditional holiday food that will remind everyone's palate of times gone by.





Furthermore, the beauty of fixing these often specifically seasonal dishes and drinks is that the cooking process will put more of those pleasant, memory-evoking aromas in the air!




Elements of Surprise



Besides using the senses to help evoke old holiday memories and create new ones, there is another trick!





The

element of surprise

works very powerfully. So whether it's having the kiddos act out a Thanksgiving play, or creating a unique

"Giving thanks" activity

for your guests to participate in, add a bit of surprise into your event to create a lasting and fond impression. The unexpected will make the day stick out for all of your guests.
Holiday hosting will look different for every person, based on their tastes and traditions.
But no matter what, by being deliberate to incorporate the senses and the element of surprise will make your event not only evoke fond holiday memories and spirit, but will also leave a lasting impression of its own.