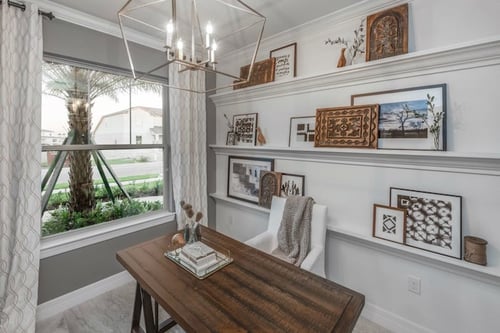 Pulte Homes Dockside Floor Plan at Epperson in Wesley Chapel, Florida
Top 6 Uses For Your Spare Bedroom
A spare bedroom can be an asset, but if you aren't sure what to do with it, the spare room can easily become a miscellaneous storage space... The key is to think about how the space can be used to your advantage and what you can do to make the space something that you'll use frequently. If you're looking for a way to use your spare bedroom, consider the following ideas.
Create A Home Office
With more people working from home, office spaces are needed now more than ever. Even if you don't work from home, you may want a place where you can be on the computer uninterrupted, catch up on work if you need time off, or enjoy playing video games. A desk, a bookshelf, and a couple of cozy chairs will turn the spare room into an amazing office space that can be personalized to your liking.
Let the Kids Play
If you have kids, a playroom may be the perfect way to use the spare room. All of their toys can be organized in the room, and they can have a safe space to spend time playing. Small shelves and a table just right for them means they'll spend hours playing and enjoying their time in the room. The design can be anything you'd like, so it's possible to add in safe climbing equipment, a loft to play in, or any busy activities the kids will enjoy!
Design a Home Theater
Do you enjoy entertaining? A spare room may be the perfect space to create a home theater where you can enjoy movies with friends and family. A large TV or projector, comfy seating, and a popcorn maker or minibar can make this the perfect place for get-togethers, allowing you to enjoy any movie you want to watch.
Expand Your Closet Space
If you've always wanted a larger closet, a spare room might be the perfect chance. Shelving added to the walls can create an extra-large closet space, and furniture inside the room can give you somewhere to sit while you pick out the perfect accessories for your outfit. With a bigger closet, it might just be the perfect time to buy some new clothes, too.
Use a Craft Space or Library
If you enjoy reading or other hobbies, the room can be turned into something related to your hobby. A library complete with a comfy chair for curling up with a good book or a craft room with plenty of room for supplies might be the perfect use for a room that might otherwise not be utilized as effectively.
Get Active With a Home Gym or Zen Room
When you want to improve or maintain your health and wellness, nothing beats regular exercise. Turning your spare bedroom into a home gym or a zen room can help make your daily workout easier, and save travel time and money by not paying an annual gym membership. Start by thinking about the types of exercises you're planning on doing, and start filling the room with appropriate equipment.
Contact Us
Now that you have a few ideas on what to do with your space, turn them into a reality. Browse our portfolio of master-planned communities with new construction homes by award-winning builders throughout the Tampa Bay area and see which is the best fit for you. Contact us to learn more today.
Topics: home purchasing, real estate, new homes