Construction of the highly-anticipated Metro Lagoon by Crystal Lagoons is nearing completion and the Tampa Bay area is filled with excitement!
The lagoon, seated at the center of Metro Places' Epperson community in Wesley Chapel, will be the first of its kind in the United States and likely a catalyst for other amenities like it to be made in future communities.
Always looking to bring new and exciting components to Metro Places communities, Metro Development Group Founder and CEO John Ryan learned about a transformative and resort-style amenity already popular around the world––but not yet in the United States. When he spoke with Crystal Lagoons both companies realized the potential for an incredible partnership.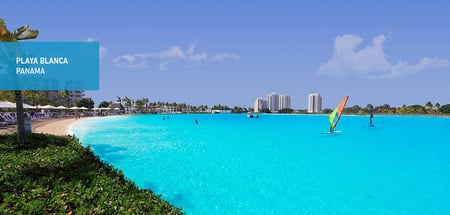 Once Greg Singleton, president of Metro went to South America and saw it for himself he was stunned by its captivating beauty. At that very moment there wasn't a doubt in his mind that a Metro Places community would have one as well. In 2018, this vision will become a reality at Epperson in Wesley Chapel.
At over 7 acres wide, the lagoon features multiple sandy beaches, an island, an adventure area with trampolines, slides and even a swim-up bar! With an average depth of eight feet (with some areas as deep as 12 feet) residents can comfortably swim, snorkel, kayak, paddleboard and sail all year long. You can take a look at all the exciting features coming soon by checking out the site plan here.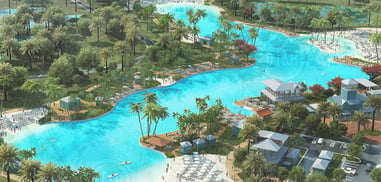 Metro Places' new lagoon side luxury in the heart of a rapidly-growing Florida region will include shopping, restaurants, bars and much more!
Not only is the lagoon magical in its beauty and charm, but the technology behind the Crystal Lagoon is also fascinating in its own way. It uses less energy than the average pool or luxury community amenity. It also uses fewer chemicals than traditional swimming pools and a fraction of the water used by a standard 18-hole golf course.
Though it comes at no surprise, Epperson homes are selling quickly! With well over 100 homes sold, the first residents are already moved in. If you want to be amongst the first to live next to the country's first lagoon click here. Anyone hoping to move to this Metro community needs to act fast–homes begin in the $200s.
As the Metro Lagoon gets ready to launch and more of its incredible details are revealed, Epperson's name is finally visible at the entrance. Little by little, the community and its amenities are being unveiled as residents eagerly await the grand opening of the Lagoon in 2018.