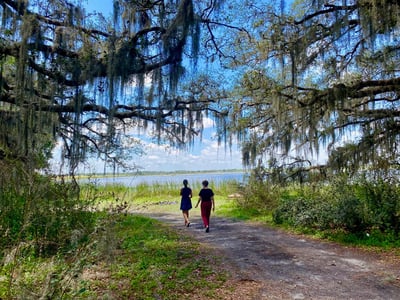 September 10, 2021 - Metro Places announces plans for Epperson's Eagle Park, a fantastic new outdoor amenity exclusively for Epperson residents. With a planned opening in 2022, this oasis will span nearly 9 acres in north Epperson on the banks of the sprawling 213 acre King Lake. As part of a larger 27 acres of preservation area, the park includes a protected eagle nesting zone that federally protected bald eagles have called home for over 40 years. The King Lake area was beloved by previous generations of the Epperson family. Today, Eagle Park has been thoughtfully designed to offer residents a beautiful park space that fits seamlessly into its natural surroundings. Once complete, this new amenity will be a vibrant community hub where neighbors can gather and enjoy an array of outdoor activities.
Amenities for All Ages
Capitalizing on the natural features of the area, Eagle Park will highlight Florida's indigenous beauty and offer ample outlets for physical activity. Exercise at fitness stations, enjoy a beautiful sunset over King Lake, or bring the kids to play and meet new neighbors. For our furry residents, Eagle Park's dog park will have fenced sections for both small and large dogs, as well as seating and tree-canopy shade for the comfort of our residents.
Click for full-size Eagle Park Plan
The playground at Eagle Park will be designed for adventure, with a play tower, swings, and a unique feature called King of the Hill, a grassy hill with embankment slides built into its slope. Other planned amenities include paved trails with golf cart parking, a dock on King Lake and the Lake House with parking. Vast in size, King Lake is an idyllic spot for picnics, fishing or kayaking (no motorized vehicle access or swimming allowed).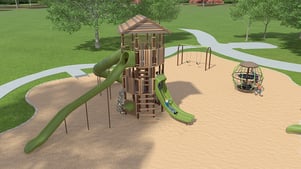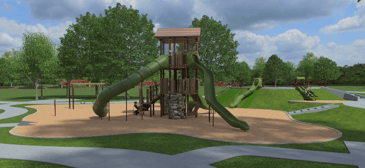 Artistic rendering of the planned playground and King of the Hill structure
Eagle Park will also be home to the Lake House, an intimate gathering space available to residents only. From birthday parties to family reunions or even just a night playing cards with neighbors, the Lake House will be an idyllic spot for friends and family to enjoy each other's company. More details on the reservation process to come as the park gets closer to opening.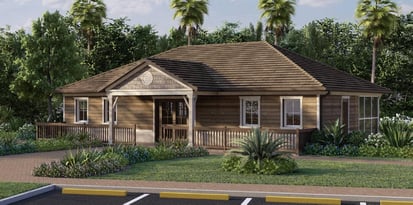 Download Lake House Floor Plan
A Nature-Lover's Oasis
Few developments offer the array of wildlife diversity that live in and around the King Lake area. Visitors may spot sandhill cranes, red-bellied woodpeckers, blue herons and more. Much more than a community park, the King Lake area is also a connection to Epperson's past; Eagle Park is home to a protected eagle nesting zone, where nesting bald eagles have enjoyed this habitat for 40 years.
Metro Places has invested great care and effort in preserving the eagles' habitat so they may continue to thrive, including adding natural buffers and limiting development plans to preserve the 6.3 acre protection area. With the opening of Eagle Park, Epperson residents will inherit the stewardship responsibilities of these Federally protected nesting eagles. We invite you and your family to learn more about these remarkable creatures and the protection regulations, to help preserve Epperson's beauty.
With the anticipated openings of Eagle Park and nearby Elam Park, residents will have two new vibrant park spaces designed for the whole family to enjoy. We look forward sharing further updates as the park continues to take shape.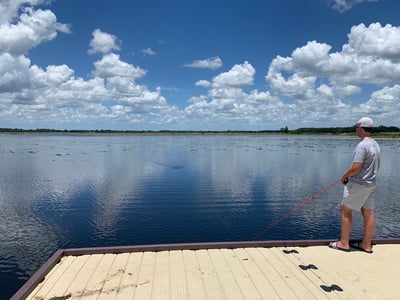 Topics: real estate, Epperson, new homes