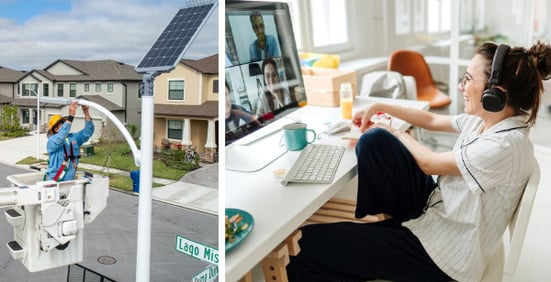 Metro Places offers several first-to-market technologies that set our communities apart from our contemporaries, including StreetLeaf solar streetlights, groundbreaking Metro Lagoon amenities, and ULTRAFi fiber technology in every home. With an eye on the future, Metro Places envisions ULTRAFi as the cornerstone for future innovation, creating opportunities for residents to work, learn, play, receive healthcare, or connect with businesses from anywhere in their community. Factoring in Tampa Bay's explosive tech industry growth, several of Metro Places' state-of-the-art communities are perfectly positioned to benefit from the area's booming startup culture.
Transformative Growth
The massive business migration to the Tampa Bay region extends to Pasco County, where industry leaders like Raymond James, Moffit Cancer Center, and Mettler Toledo are building offices and creating hundreds of new jobs. Just under 30 minutes from downtown Tampa, Pasco County offers an incredible quality of life with high value jobs, nature trail preserves, affordable new homes, and phenomenal amenities including Epperson Lagoon and the newly built Wiregrass Sports Complex.
Exciting Education Opportunities
Pasco County schools also rank among the best in Tampa Bay, and Metro Places communities offer resident families several excellent school options. Next year Epperson's tech-focused Innovation Preparatory Academy will be joined by Kirkland Ranch Academy of Innovation, a magnet high school opening in Fall 2022. In Fall 2023, Pasco County will open their first grade 6-12 STEAM magnet school within the Metro Places' highly anticipated Angeline community.
Pasco's Next Chapter
Also within Angeline will be the new 775-acre Moffit Cancer Pasco Expansion, and County Administrator Dan Biles believes it will be transformational for the county. "I don't like to overuse the term, but this is the one project I've called a 'game changer' in my four and a half years here," Biles shared. "It is going to completely change the perception and feel of Pasco County in the region."
Pasco County communities like Epperson, Mirada, and upcoming Angeline illustrate Metro Places' commitment to building communities with the most innovative technologies. As Tampa Bay's tech industry flourishes, this distinction will certainly attract new residents to the excellent value a Metro Places community offers.
Topics: real estate, Epperson, new homes