Jocelyn and Ernest Adams were quite happy living in St. Petersburg in 2017. They had met a two and a half years earlier in North Carolina and decided to take the leap to Florida together. She was a teacher and he was (and is) a network engineer for IBM. The loved St. Petersburg's diversity and culture.
From the murals to the shops to the waterfront, it seemed like the perfect spot. Then they started looking to buy a home of their own. Enter sticker shock.
"We couldn't believe what they were asking for properties in St. Petersburg, and there's nowhere to build," said Jocelyn. "Homes there cost way more than we had expected."
Then one of her husband's friends and work colleagues mentioned Epperson. It seemed crazy to be so far away from St. Pete, but the Adams decided to take a drive out to Wesley Chapel.
"We visited once, and the next week, we put money down on our first home," said Jocelyn.
The Adams had the vision to see what Metro Places did long before the Lagoon and many community amenities had taken shape. Ernest, with his tech background, immediately embraced the concept of a master-planned community, Connected City and ULTRAFI Joceyln, a former teacher, liked the idea that the community had charter schools on site. They instantly saw and embraced what the community could be and its promise. They were able to build their first home from the ground up, making decisions that would make it uniquely theirs as it took shape.
The idea that Epperson is a family neighborhood was also a big selling point for the Adams.
Ernest grew up in the Bronx, where he enjoyed strong family ties. Jocelyn, on the other hand, was missing the suburban neighborhood vibe she enjoyed while growing up in Villa Rica, Georgia, a city about 45 minutes northwest of Atlanta. Epperson felt like the perfect mix of the two as they got a little bit of the city feels by being able to drive to events and around the community in their golf cart, while also getting the suburban attitude of kids playing on community playgrounds, people walking their dogs, and jogging on exercise paths.
"I love the suburban feel without being too far away from city life," said Jocelyn. "We'd like to eventually move into a larger home, but we foresee buying again here in Epperson."
After moving to Epperson, Jocelyn worked at New River Elementary, working with third graders on Individualized Education Plans for language arts, science and math. Then they learned they were expecting Ryver (pronounced River) Rose Adams, their first born and the apple of their eye. (Ryver is a variant of the Bronx River housing development where Ernest grew up). Now 18 months old, Ryver is the reason Jocelyn is a stay-at-home mom who is considering homeschooling her daughter indefinitely. It also sparked a new business idea in
Jocelyn--another one born out of love.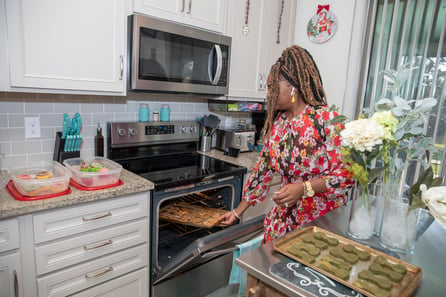 See, Jocelyn and Ernest had a dog named Boss. Boss was a happy, playful bulldog/boxer mix, until he was diagnosed with stomach cancer and died at the age of 11, In 2018. She launched Bossy River Dog Treats as part of what she calls her "woulda/shoulda/coulda" moments to provide all-natural, organic, highly nutritional dog treats for furry friends in her neighborhood. She felt if she would have fed a similar diet to Boss, she might have helped him not suffer at the end of this life.
"My neighbor's dog Noah is one of my test subjects and he loves the vegan oatmeal, peanut butter and banana treats," she said. "In fact, people can eat them, too. They're completely safe for canines and humans."
Her goal is to one day open a food truck and visit dog parks and other areas where puppy parents congregate, offering natural dog treats for the four-legged customers and items like fresh baked goods from local bakeries and Mimosas to their human parents. Every second Saturday through the end of January 2022, you can find her at Lufka in Wesley Chapel, where she sells a "Super Bone," using proteins powders from the store such as ginger root, beet root, turmeric, and other immunity boosting ingredients. She's just launched the website www.bossyriverdogtreats.com. She's hoping to continue her relationship with Lufka throughout 2022.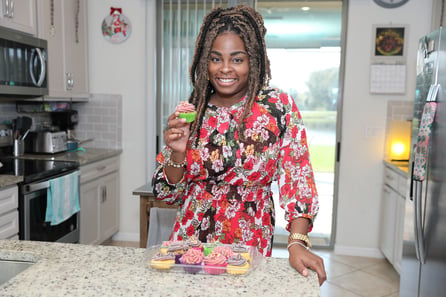 Don't be surprised if there's a line of dogs waiting for their pup treat in the Adams' driveway, or lined up at one of Epperson's dog parks for a sample. Be sure to say "hi" and give the Adams a wag when you see them.
Topics: real estate, Epperson, new homes