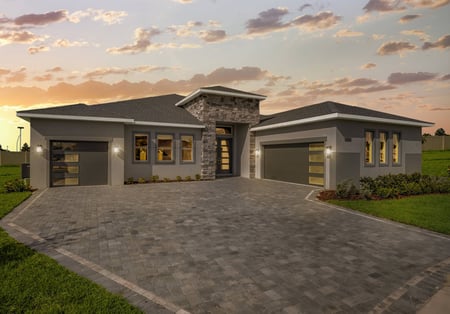 Biscayne Homes Bismark 1 Model Home at Epperson in Wesley Chapel, Florida.
Things To Look Out For When Viewing A Property

When it comes to viewing a property for the first time, there are many things to consider. We have seen the rise surrounding virtual viewings, and although virtual tours can be a great way to shortlist the properties you're interested in, nothing beats an in-person visit.
Here is what to look for when viewing a property:
Roof Age
There is no question that replacing a roof can be expensive, but the great thing about buying a new home in a Metro Places community is that all of our homes are newly built by award-winning builders. This means that you will not have to worry about roofing for years to come, unlike when buying a re-sale home. However, if you do buy an existing home, ask for the age of the home and roof.
Sunlight
Especially in the sunny state of Florida, it's important to consider the direction a property faces. On a cloudy day, it may be hard to tell the difference between a north and south-facing house or garden. However, in the summer it can make the difference between a room(s) that is full of warm summer light, and one that is naturally darker. Don't be afraid to use your phone's compass when you're at a viewing!
Room Shape and Size
Another thing you want to keep in mind when you are viewing a property is the size and shape of the rooms. The key thing to remember is to make sure every room will fit your family's needs; especially if you're planning on taking any existing furniture. Don't be afraid to take measurements of any furniture, and bring a measuring tape to your viewing so you can accurately dictate what the room could potentially fit inside of it.
Location
When viewing a property, it's important to look at the big picture! If you have younger children, is there a park or playground nearby? Or, if you have a dog, are there dog parks and walking trails for your daily strolls? All of our Metro Places communities boast an array of fun amenities we call Elements that complete your home buying checklist.
In Conclusion
Now that you have the tips to find a home that is safe, sound, and ready for you and your family to move in, browse our portfolio of master-planned communities throughout the Tampa Bay area and see which is the best fit for you. Contact us to learn more today.
Topics: home purchasing, real estate, new homes