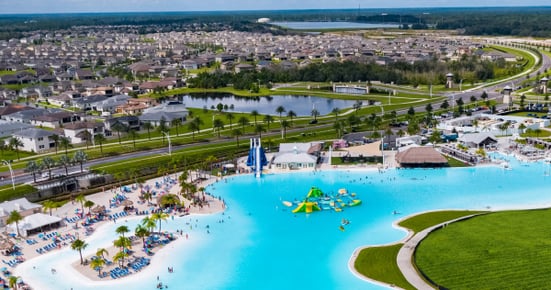 Since 1994, RCLCO has published an annual national ranking of the top-selling master-planned communities. This year Epperson ranked #27 in the nation, with 342 new home sales from January to June 2021 (up 174% from a year ago). Recently Zonda ranked Epperson as the #1 fastest-growing new community in Tampa Bay, with four other Metro Places communities making the Top 20: Mirada, Southshore Bay, Union Park, and Cypress Creek. These communities' popularity is a clear indicator that Metro Places' approach to master-planned development resonates with today's homebuyers. But how exactly does Metro Places' differentiate our communities from other marketplace choices?
The Metro Places Philosophy
While many developers build new home communities that appeal to today's homebuyer, Metro Places designs communities for tomorrow. Our philosophy is threefold: develop in prime locations in emerging areas, work only with award-winning builders, and offer sought after amenities known as Elements that provide residents countless ways to get active, have fun with family, and foster a sense of community with neighbors.
Next Generation Amenities
Innovation is another cornerstone of Metro Places' development philosophy. In nine of our communities, proprietary ULTRAFi fiber technology lays the foundation for a high-speed, fully connected lifestyle. In 2018, Metro Places opened the country's first inland Lagoon at Epperson, utilizing first-to-market technology to create an unparalleled amenity experience. The Lagoon has attracted high numbers of out-of-state and local homebuyers in search of a laidback Florida lifestyle and vibrant community programming.
Building on three years of successful operations at Epperson Lagoon, new Lagoons are underway at our Mirada, Brightwater, and Southshore Bay communities. The new Lagoons will feature enhanced facility design, permanent cabanas, advanced eco-friendly filter technology, expanded swim up bars, and customized resident events unique to each community.
The Metro Places Distinction
As of September 2021, five Metro Places communities are among the Top 20 fastest-selling communities in the Tampa Bay Area. As suburban demand grows in Tampa Bay, homebuyers are attracted to Metro Places' signature blend of innovative technology, exciting amenities, and quality homes from leading builders because they add up to incredible value and an incomparable lifestyle.
Topics: real estate, Epperson, new homes