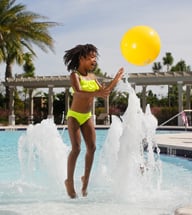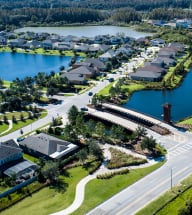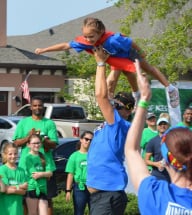 Spanning 480 acres in Wesley Chapel, with a resident population of 1,200 and limited homes still available, the vision of Union Park is almost at fruition. As we look back at 7 years of growth at Union Park, it's clear residents who bought homes will reap the benefits of living in a completed master planned community. Children grow up and neighbors thrive in a tight-knit community designed for deeper connections—with nature, family, and oneself. Union Park is a perfect example of how living in a mature, well-designed master planned community can be a magical experience.
"The original vision of Union Park was to create a friendly environment that connected to nature, connected to individuals, and connected all together," shares Scott Andreasen, a Union Park resident and the VP & Director of Landscape Architecture at Heidt Design. "Through the children's playgrounds, the Birdhouse Village, The Landing and ULTRAFi this vision came to life. Union Park is a neighborhood where residents care for and take care of one another. We're thankful to Metro for helping to make this happen."
Residents say Union Park's diverse amenities (also known as Elements by Metro Places) and community events make it a wonderful place to live. For residents who like to stay active, the indoor fitness center is extremely popular, as are the more than 10 miles of interconnected trails and natural areas for walking or biking. Other favorite Elements include the Zen Garden and the Birdhouse Village.
As the sun sets and the temperature drops, Union Park comes alive in the evening. The Landing fills with families, and children play in the Splash Pad. People and dogs socialize at the dog park, teenagers and families attend Movies on the Lawn, and a steady rotation of food trucks are often at community events. Union Park hums with activity and residents thrive in this friendly environment designed to foster connection.
Beyond social and natural amenities, another major attraction for Union Park families is a quality education close to home. Union Park Charter Academy is an A-rated charter school that helps students develop Future Ready Skills that utilize the four C's: Creativity, Communication, Collaboration, and Critical Thinking. Located in the best school district in Pasco County, Union Park students also attend A-rated Wiregrass High School.
Technology is a foundational Element of Union Park. Like most Metro Places communities, the entire development is outfitted with ULTRAFi, a first-of-its-kind resident environment where every home is a Smart Home and equipped with the fastest internet speeds, allowing residents to live a fully connected life at home and anywhere within the community.
Nearing its close-out phase, Union Park has limited new single-family homes and townhomes by premier homebuilder D.R. Horton remaining, starting in the $200s. Moving into a mature community has its perks: construction is almost complete, and residents have immediate access to all the amenities that make Union Park unique and satisfying. As a cornerstone community in the Wesley Chapel area, Union Park's location is perfect for those who love the feel of a secluded community, but still want to be close to the conveniences of everyday life. Visit one of D.R. Horton's beautiful models today and be among the last few to claim a new home in one of the finest communities around.