The term is still being defined; bottom line is healthier, happier living.
Everyone knows a home is a big investment – for many people the biggest investment they'll make. But can a home and the neighborhood where it resides also be a big investment in one's mental and physical health?
It is if you ask Jessica Robinson, a marketing specialist with Tampa Bay's Eaton Realty. More and more, she said, developers and builders are embracing the concept of "wellness communities," which are developed with certain factors in mind, such as the roles exercise, environment, social activities, stress, and daily behaviors play in "health outcomes."
"There's very much a mental, physical, and community focus on neighborhoods created today," Robinson said. Beth McGroarty, vice president of research for the non-profit Global Wellness Institute, said there is no overall "wellness certification" that can be earned by a community. However, her group outlines the positive elements that contribute to a community's wellness factor, such as infrastructure (things like water quality), technology (features like gigabit internet), and what she calls "soft infrastructure," which includes everything that goes into a community to promote mental and physical well-being.
Prime examples of Tampa Bay developments that embrace wellness technology concepts are the Crystal Lagoon communities of Metro Development Group's Epperson in Wesley Chapel, and its sister community, Mirada, in nearby San Antonio, said Robinson. Connected by the highest speed computer networks to help with home schooling and working from home, they also feature unique 7.5-acre and 15-acre respectively central tropical lagoons for swimming, water sports, and lounging on white-sand beaches.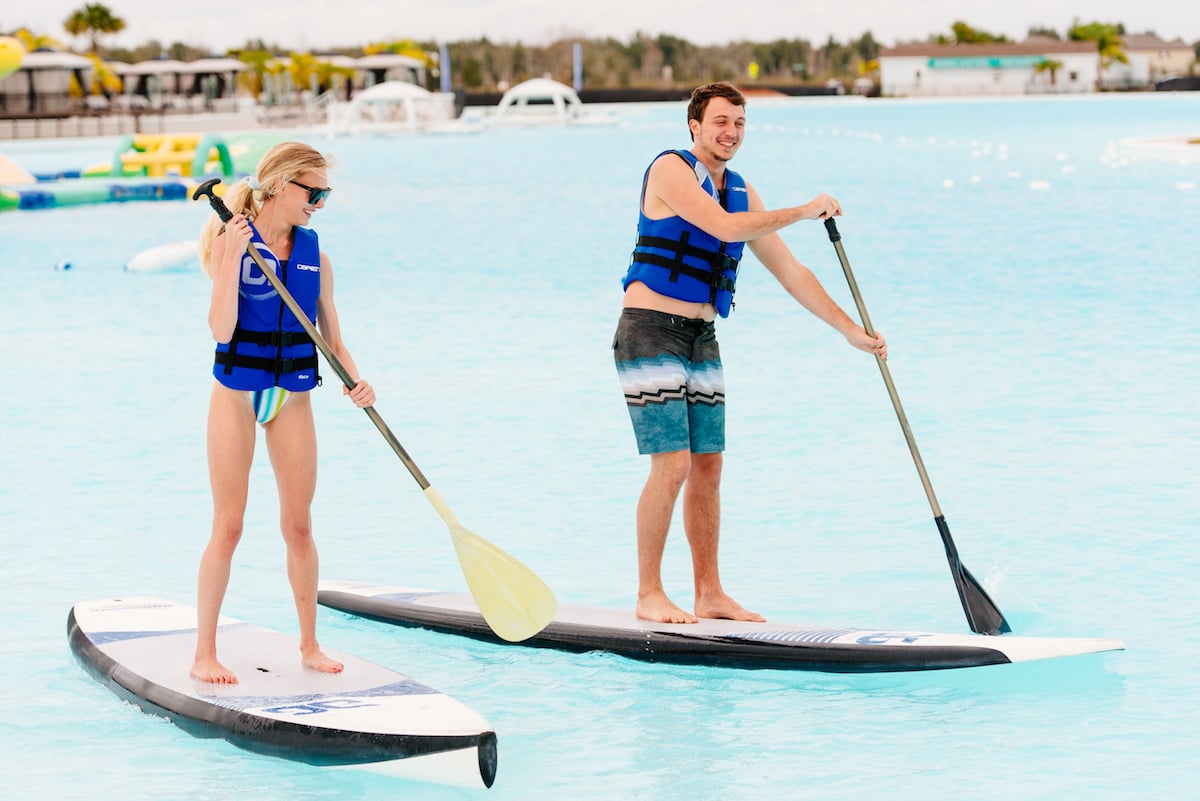 The Lagoon at Epperson by Metro Places
"Wellness is a key component in all of Metro Development Group's communities," said John Afflebach, the company's marketing director. "We see wellness as a mindset, with amenities like our Metro Lagoons, walking trails and fitness stations, tied to a wide range of activities designed to get people moving."
Metro is working with Advent Health for wellness-related facilities in its communities, facilities buyers appreciate having nearby.
"People of all ages want to live in a wellness-themed community, both for themselves and their families," Afflebach said. "Wellness-related amenities consistently rank among the top things homebuyers are looking for."
Robinson said homebuyers may not be asking specifically for homes in wellness communities, but their wants list includes many of the features that the criteria.
For Realtors, selling the wellness concept is little more than steering buyers toward neighborhoods that have lots of amenities.
"Most people have never heard of a wellness community, but agents who spend time talking to their clients about their ideal home and community realize it's what they are looking for," she said.
While the term "wellness community" isn't an official designation (yet), McGroarty believes Florida developers are among the leaders in the nation when it comes to embracing and implementing wellness concepts. Metro communities already embody many of these concepts in their signature Elements, placing them the forefront of a growing movement of communities and homebuyers that prioritize wellness as a way of life.
Blog adapted from an article by Times Total Media Correspondent Nick Stubbs, Tampa Bay Times, Homes section, Sunday, May 2, 2021. https://tampabaytimes-fl.newsmemory.com//?special=Homes.