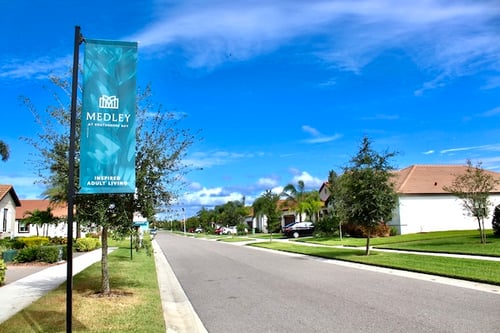 Medley at Southshore Bay in Wimauma, Florida
5 Homebuying Myths Debunked
There are a number of home buying myths you might become aware of that could negatively affect your home buying process. While more seasoned homebuyers may already be aware of them, those who are buying their first home may not know that these are just myths. Read on to learn how to avoid the myths and know the truth about the home buying process.
Myth #1: Start by Looking at Homes
A myth still prevalent today is that you should start by looking around at a variety of homes, even if they're priced a little higher or lower than you expect to spend. The reality is, this often isn't a good idea. You may end up falling in love with a home that sells before you're approved for a mortgage. Instead, the right first steps will be to look at your budget, what you can afford, get pre-qualified with a mortgage lender, and contact a Realtor to assist in your search.
Myth #2: You Only Need the Down Payment
You might hear that the down payment is the only amount of money needed when you're buying a home. In reality, there are normally a few additional closing costs that could leave you financially unprepared if you're not ready for them. Expect the closing costs to be around three to six percent of the total purchase price, and be prepared for fees, taxes, inspection costs, and more while you're looking for a home and right after you purchase it. Also, don't be afraid to ask your Realtor or Builder Professionals for some insight on these costs ahead of time.
Myth #3: Bad Credit Means No Mortgage
A common myth is that you must have excellent credit to buy a home, and it's not even worth looking into it if you have a low credit score. While it is better to have a good credit score, there are options for every borrower, no matter what their credit scores are. If you don't have a good credit score, explore other options, like an FHA loan.
Myth #4: Home Inspections Aren't Necessary
When homes are selling fast, people often believe that waiving the right to an inspection can help them purchase the home. While bypassing the home inspection might seem to shorten the process, it's never a good idea. If you skip the inspection, you buy the home as-is, which includes any unfavorables that you may not have known about. Your Realtor Professional can also help set you up with a trusted inspector. Check out our blog 'Things To Look Out For When Viewing A Property' for other tips to look out for when viewing a property.
Myth #5: School Zones Don't Matter
If you don't have kids yet, it's easy to believe the myth that school zones don't matter. However, they do still matter, even if you don't plan on having kids. Good school zones tend to enjoy higher property values, often have better walkability, and are often going to continue to increase in value over time. This means you're likely to get a better price when you sell your home, and maybe the next buyer might have school-aged children.
Contact Us
Now that you know the top five home-buying myths and the truth about them you can take the next steps. Browse our portfolio of master-planned communities with new homes throughout the Tampa Bay area and see which is the best fit for you. Contact us to learn more today.

Topics: home purchasing, real estate, new homes